How to Leverage Cameo In Your Social Media Marketing  
November 12, 2021
When leveraging the power of brand advocates or endorsements from well-known personalities, success comes in all sizes. And, targeting the biggest names or the most sought-after celebrities, in fact, might not always be the right answer for your brand or your campaign. In fact, businesses often get better ROI from working with smaller nano or micro-influencers to obtain niche-specific endorsements. How do you find the influencer or personality that works best for your audience? Say hello to the fast-growing, one-stop resource Cameo.
What is Cameo?
Cameo is best known to Internet users as a site from which they can order celebrity video messages. People typically order Cameos for others, such as to send birthday wishes or congratulations; others use Cameo to get a celebrity to roast their friends or to show off at gatherings. If you have the money to pay for a Cameo, you can get a celebrity to say pretty much anything.
Screenshot from cameo.com, taken November 2021
Video messages from celebrities have become more common in recent years, due in part to the pandemic. It's an easy way for people to pool money and provide something special for a loved one. As these messages become more pervasive, it's also become more acceptable to hear from celebrities of all levels on a more personal level.
Cameo for Business
Naturally, the combination of celebrity access and the effectiveness of influencer marketing has led to Cameo being a desirable destination for companies seeking celebrity endorsements. With this in mind, Cameo has launched a business-specific section of its site aimed at pairing celebrities with businesses looking for celebrity content.
Cameo offers its own Enterprise service for businesses, geared toward companies that need help finding the right influencer for their needs. Businesses can also book their desired celebrity on their own. Marketers who use Cameo for business purposes can expect to pay significantly more for their endorsement than a consumer would pay for a Cameo video.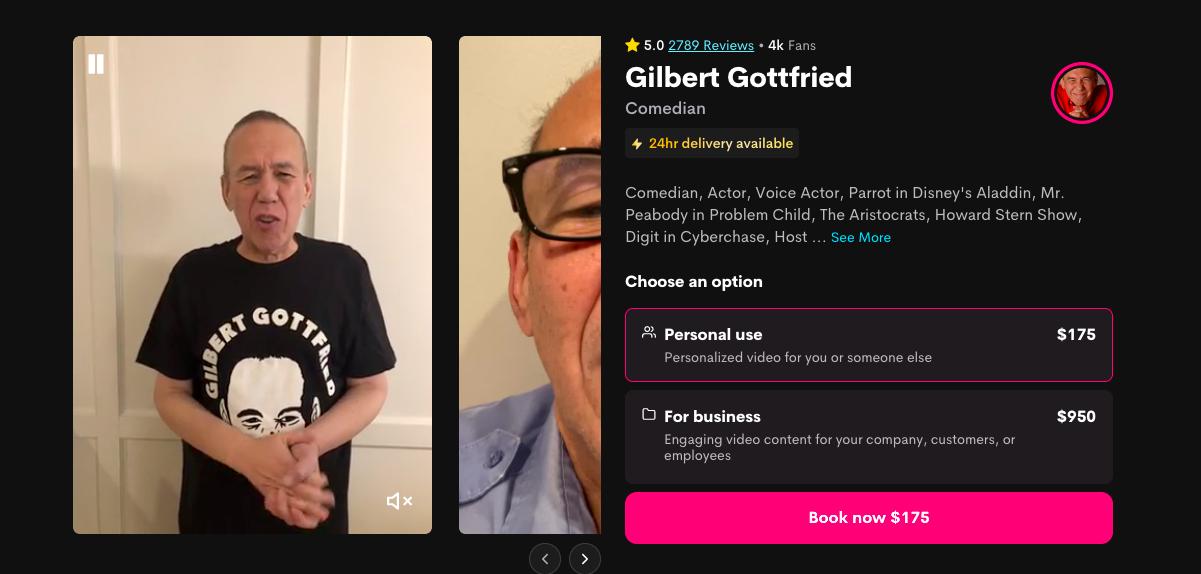 Screenshot from cameo.com, taken November 2021
Despite the increased price in comparison with consumer-purchased videos, using Cameo to obtain celebrity endorsements can be a very cost-effective proposition for brands. Booking celebrities through Cameo means businesses know exactly how much they'll be paying for an endorsement. Marketers also benefit from the streamlined Cameo interface and customer support, with no need to deal with talent agents that also need to be paid. If the right match can be found, it's a win-win for both sides.
Cameo in Social Media Marketing
While it's great to easily obtain an endorsement from an influencer or celebrity, it's only useful if you can deploy that content in a way that draws in viewers and drives engagement. That's where social media comes into play.
When you receive your Cameo from your celebrity of choice, you can do with it what you'd like. You can put it on your website. You can email it to your distribution list. But how can you guarantee that new eyeballs will see your endorsement? Your social media accounts will help you to get the full value out of your investment.
Social media lets you do more than simply show the world that you've got the backing of a famous person. You'll also potentially attract the supporters of your endorser as well. A consumer might not have reason to consider buying from your brand under normal circumstances. But if you have a credible endorsement from an athlete, actress or influencer? Maybe that individual might start to see your company in a different light.
Another reason why social media is the perfect destination for Cameo content is the nature of the videos. Unlike a typical advertisement, influencer endorsements on Cameo aren't read off a script. They're ad-libbed by the talent themselves, based on information provided by the requester.
If you're a consumer, and if you want someone to wish your friend a happy birthday, they'll do so using the information you give them, and your birthday wish will be different from all of the other birthday wishes done by that celebrity.
The same is true of business Cameos. You're getting an organic, natural pitch done by an accomplished celebrity who has done this type of video before. And even if that same individual endorses a similar brand, it won't be identical to yours, giving your company the credibility and authenticity of the celebrity you've chosen.
The best thing about Cameo, though, is that you don't have to limit yourself to just one celebrity. You can order Cameos from several endorsers. The only limit is how much you'd like to spend. This allows you to use different videos in posts aimed at different market segments or buyer personas. Each group will feel like they're seeing a message from a celebrity that speaks to them.
Better yet, using Cameo's Enterprise service for businesses, you can create an edited video containing messages from all of the celebrities from whom you've ordered Cameos. This type of video can be very effective on social media because it will show consumers that several important people are backing your brand. It's a full-court press that has the potential to take prospective buyers and convert them into paying customers.
Cameo Alternatives
If you're looking to boost your social media game, but aren't interested in dealing with celebrities or influencers, you're not out of luck. There are plenty of resources out there that can quickly enhance your social media content. Here's a quick look at two platforms you can use instead of — or alongside — Cameo.
Fiverr
Like Cameo, Fiverr is a digital marketplace that seamlessly hooks marketers up with content creators. Unlike Cameo, though, Fiverr's spectrum covers virtually anything in the digital realm. Marketers can work with Fiverr users to edit images, create infographics, generate video content and countless other tasks. In short, Fiverr's team can produce anything you'd ever want to post to social media. So if you know what you want, but simply lack the technical know-how to make your vision come to life, Fiverr is a game changer. Not only that, but it's a lot cheaper than hiring an in-office assistant.
Kapwing
Moving more into the world of content creation is Kapwing, which makes it easy for marketers to develop animated content, in particular movies and GIF files. Both categories are proven to generate tremendous responses on social media. Marketers can use Kapwing for free, and by creating an account with Kapwing, can download their created content without watermarks — something that can't be done on Cameo.
Promo
Promo.com is an online video maker that gives you everything you need to make high-quality videos that will help your business grow. They have millions of templates for any kind of business type and they fit all types of content. With Promo, you can also make video advertisements freely and easily. Promo helps you to promote your business or products, improves brand awareness, widens your reach, and engaged your customers.
Whether you use Cameo or one of its rivals, you're at the forefront of what's trending on social media. Through Cameo, the traditional borders of communication are breaking down, and it's now possible for you to easily get shoutouts, endorsements and recommendations from the perfect celebrity or influencer at the perfect time. If you'd like to learn more about how you can incorporate Cameo into your company's social media marketing strategy, contact us at Commit Agency today.